Heading out into a marsh or swamp alligator hunting is great, but hunters must be careful with how they handle the animal after a successful harvest. Meat from alligators harvested by public hunters cannot be sold or bartered by hunters. In fact, even the meat given to others must be clearly labeled with a tag and the corresponding harvest tag number. This is to protect the person receiving the product, in the event they are found in posession of alligator.
However, alligator hides and parts can be sold or transferred if they are tagged with either a CITES tag before being sold, transferred, bartered or given to another person. Some states even have additional validation tags they can issue to successful hunters for tracking these parts. All alligator tanneries or hide buyers will require a CITES tag in order to process or purchase an alligator hide.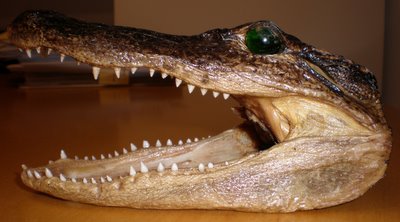 Alligator parts, which includes bones, claws, skulls, and anything else other than the meat, must be permanently labeled with the your alligator harvest tag number somewhere on that part. A permanent marker can be used to write this information on a securely-fixed tag or directly on the alligator part. You will have to list either your CITES tag number and/or your documentation from the state where the gator was harvested.
It is suggested that markings on alligator skulls be written on the bottom of the part so that it is not immediately visible since it is for display, after all. If you have any questions about the handling of alligator parts and meat, do not hesitate to contact a state office. As mentioned, gator hunting is a lot of fun and a great way to control their population size, but the handling of parts after skinning an alligator is very serious. Don't mess up!