Louisiana is at the heart of alligator country! In fact, Louisiana's wild alligator population is estimated to be approximately 1.5 million gators! In addition to their wild population, it is esimated that another 500,000 alligators are found on commerical alligator farms within the state. For those interested in heading alligator hunting in Louisiana, the wild alligator season starts annually on the first Wednesday of September and continues for 30 days.
In Louisiana, an alligator hunter must either own land or lease land that is classified as wetland habitat in order to qualify for alligator harvest tags. The Louisiana Department of Wildlife and Fisheries issues harvest tags for property containing sufficient alligator habitat capable of sustaining an alligator harvest.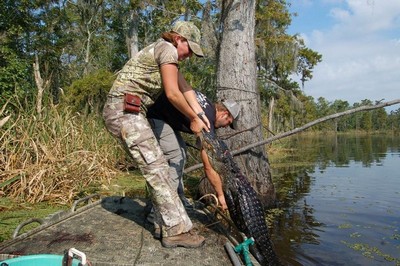 Hunters must apply for alligator tags prior to the season. An alligator hunter license applicant must submit the following:
A completed alligator hunter license application form including the hunter's information (name, dob, drivers license #, etc.),
Proof of property ownership (tax receipts or bill of sale) containing Parish, Township, Range, Section and acreage information,
A map outlining the property to be hunted, and
A landowner's signature indicating permission for the hunter to harvest alligators on the property.
If applicable a legal alligator hunting lease may be submitted.
Alligator hunting licenses cost $25 and there is no cost for alligator tags.
Non-residents and persons not possessing or having permission to hunt alligators on private property can harvest alligators as an alligator sport hunter while accompanied by a guide. A guide must be an alligator hunter possessing valid alligator tags. An alligator Sport Hunter License cost $25 for Louisiana residents and $150 for non- residents.
When it comes to alligator harvest, Louisiana is king! Louisiana alligator hunters harvest over 30,000 wild alligators annually and farmers harvest over 280,000 farm-raised alligators annually. Raw meat and hide values are estimated at over $10 million for the wild harvest and over $33 million for the farm harvest in 2005.
So that's an overview of alligator hunting in Louisiana. This state produced hoards of good alligators each year, and it's a testament to their alligator management program. Hopefully this article has given you enough information to get you moving on a hunting trip down the the marshes and swamps of the Sportsman's Paradise. Just watch out for Boudreaux and Thibodeaux!