When it comes to alligator hunting, there is no place as exciting as Florida! This state has become synonamous with alligator habitat. Since 1988, Florida's statewide alligator harvest has been internationally recognized as a model program for the sustainable use of a natural resource. Each year, alligator management units are established with appropriate harvest quotas to provide recreational opportunities for residents and non-residents to take up to two alligators per permit.
Successful applicants who are awarded a permit must submit payment for two CITES tags and an Alligator Trapping License, or provide proof of possession of an Alligator Trapping License valid through the end of the alligator harvest season. However, a Florida hunting license is not required to participate in the statewide alligator hunt.
In Florida, there is no gator hunting season. American alligators can be taken year round with any weapon. Alligator hunts on public waters are conducted on public lakes, rivers and wetlands by harvest units throughout the state as designated by the Florida's conservation commission. The State of Florida provides more than four-thousand alligator harvest permits available on a first-come, first-served basis for these hunts. They also fall under a more restrictive set of regulations than hunt that take place on private lands.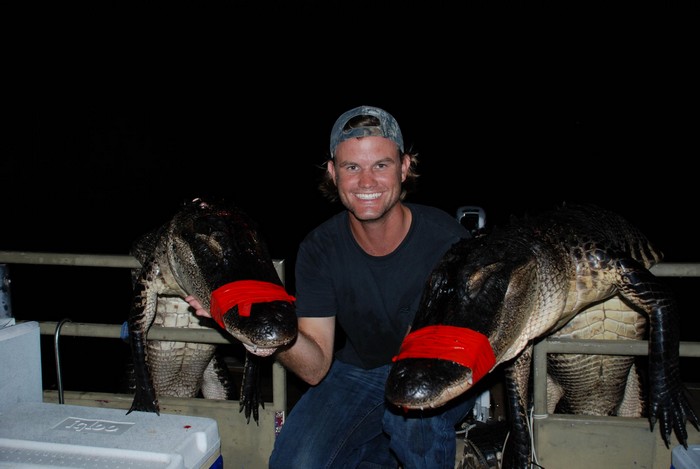 Public water alligator hunting is best by airboat. Legal weapons for public waters are compound bow, re-curve bow, crossbow or harpoon. These are used to initially "catch" the gator, with a bang stick used for harvest. Firearms (handguns, and rifles and shotguns) powered-gigs and set hooks are not legal on public waters.
Hunters can also hunt gators on private land. Of course, you will have to contact a landowner or an alligator hunting guide to get more information on costs. On private lands, most alligators are located in canals, water retention areas, ponds, lakes, marshes, and swamps. On private land, hunters can use shotguns, rifles, pistols and even gigs and hook sets.